TRIBUTE TO NATURE
A subtle blend of cachaças, made from the juice of fresh sugar cane, harvested by hand and aged in different endemic woods, without artificial additives, has made it possible to forge TIJUCA spirits an identity close to nature to offer you an innovative experience.
Welcome to Rio das Flores:
A municipality committed to the environment!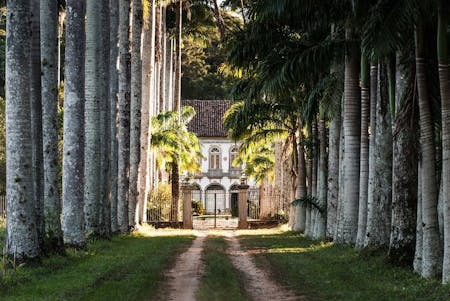 Although it has modest resources, the municipality of Rio das Flores pursues a resolute and ambitious environmental policy to restore and protect its ecosystems. Waste management, water quality and reforestation are among its priorities.
Because one of our producers has created a distillery in Rio das Flores and has been committed to the preservation of the forest for a long time, TIJUCA has decided to participate in the efforts of this municipality by offering it part of the proceeds of its sales for fund its reforestation program.
TIJUCA thus demonstrates its gratitude towards a region that offers it sugar cane and the aging wood that gives birth to its spirits.
Rio das Flores
8 000 inhabitants,

200 kms North of Rio de Janeiro,

525 meters above sea level,

In the heart of the Mata Atlântica (Brazilian coastal forest).
Welcome to the Mata Atlantica
The Atlantic Forest (Portuguese: Mata Atlântica) is a tropical rainforest biome located along the coast of Brazil.
Covers 15% of Brazilian territory,

Home to 72% of the Brazilian population,

Concentrates 70% of the Brazilian national GDP,

Extends over 5000 kms,

Its highest peak reaches 2,700 m.
The Mata Atlântica is one of the most threatened tropical forests in the world:
Deforested since the arrival of the first settlers around 1500,

Only 7% of the original forest remains,

20,000 threatened plant species, 8,000 of which only exist in this region,

Thousands of vertebrate species are also threatened (934 birds, 264 mammals, 311 reptiles and 456 amphibians).
Many NGOs and public and private actors are working to protect and restore this environment. This is the case of the SOS Mata Atlântica foundation as well as the municipality of Rio das Flores, located in the heart of Mata Atlântica, with which TIJUCA has signed an agreement to help with reforestation.
What we do
TIJUCA entered into an agreement on December 16, 2020 with the municipality of Rio das Flores, State of Rio de Janeiro, Brazil, to participate in the financing of the reforestation of Mata Atlântica, a Brazilian coastal forest. The SOS Mata Atlântica Foundation is the guarantor of the agreement.
This agreement funds the planting of a tree for each bottle sold and aims to:
To regain forest cover,

To reinforce ecological processes in degraded areas,

To provide the necessary care to young trees,

To restore the biodiversity of the Mata Atlântica,

To promote sustainable land use,

To fight against climate change.
Trees are a vital link in life on Earth. They participate in the water cycle, produce oxygen, absorb CO², promote biodiversity, constitute a habitat for fauna, fight against erosion and much more!
If you also want to participate, contact us: contact@tijuca.fr